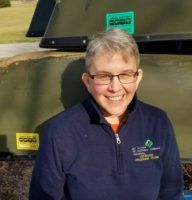 Opinion, written by Nanette Yarde:
Opinion: Girl Scout Camp builds confidence, leadership skills
By Nanette Yarde

Being outdoors surrounded by nature is a wonderful way for girls to try new activities, develop a lifelong passion for an active lifestyle, and learn skills to apply to their everyday lives. And what better way for girls to experience the outdoors than to spend a few days or a week at Girl Scout camp?

Girl Scouts of Northern Indiana-Michiana is fortunate to have several beautiful camp properties – Camp McMillen in northern Allen County, Camp Logan on Dewart Lake near Syracuse and Camp Soni Springs near Three Oaks, Mich. And best of all, camp is open to all girls currently in grades K-12; no previous Girl Scout experience is necessary!

Away from busy schedules and digital distractions, camp provides a safe environment, emotionally and physically, for girls to discover who they are. Girls have the opportunity to live in community with other girls and caring counselors; try a new sport like kayaking, archery, zip-lining or horseback riding; learn to cook over a fire and care for horses; and feel free to be silly and play games. Of course, the traditional camp fun of s'mores, crafts and campfire songs endures. Through these activities and more, girls develop a strong sense of self and build confidence and leadership skills.

Research has shown the many benefits of outdoor activities for girls:

More than 70% of girls said they first tried an outdoor activity in Girl Scouts, and half said they could not have done this if not for Girl Scouts.
Girl Scouts were much more likely to take actions to protect the environment and have a personal experience in nature that made them appreciate it more, compared to non-Girl Scouts.
Girls reporting monthly outdoor experiences were stronger problem solvers and challenge seekers.
Two-thirds of girls enjoy the outdoor activities they participate in through Girl Scouts. Girls report higher enjoyment when they have opportunities to improve skills and help other girls learn.
Hispanic/Latina girls are significantly more likely than non-Hispanic girls to say that Girl Scouting has had an impact on their exercise habits and health, that they first tried an outdoor activity in Girl Scouts, and that they would not be able to do an outdoor activity if not for Girl Scouts.

As a Girl Scout growing up, the highlight of my summer was attending camporees as well as weeklong camps. Removed from television and other forms of entertainment, I was able to be myself, explore new challenges in a safe place and try things I had never attempted before.

Some parents may find it difficult to let a child go to camp. But there are ways you can prepare your daughter for being away from home. First, look at the camp brochure or view the choices on the GSNI-M website. Narrow down the options – one-day camp with mom or dad, mini-camp, weekend camp, day camp or a themed weeklong camp. Ask your daughter what she'd like to try and what she's nervous about trying. Share positive memories from your past camp experiences.

Discuss how camp routine might be similar to home (i.e., keeping her bunk tidy), yet different (hearing insects at night). Remind her she will make lasting friends from different places and backgrounds. Don't dwell on homesickness, but assure your daughter it is normal – it just means she loves her family and her life. Most important, tell her how excited you are about all the fun she will have at camp.

I have witnessed hundreds of girls be transformed from timid to confident at Girl Scout camp. They conquer their fears and may lead a group song, teach a younger scout how to put on a mask and snorkel or hold a bow in archery, or coordinate the morning flag ceremony. It is a great honor for me to be a small part of this process, to impact the lives of the girls we serve, provide opportunities to challenge them, develop their life skills, and empower them to become girls of courage, confidence, and character who will change the world.

Nanette Yarde is Outdoor Program Supervisor for Girl Scouts of Northern Indiana-Michiana.

To learn more about Girl Scout camping opportunities, visit www.gsnim.org. You can also make a financial gift that allows girls from needy families to attend camp.
Related Images: