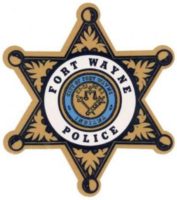 News release from the Fort Wayne Police Department:
Attempted Credit Union Robbery

Date: Monday, February 13, 2017

Time: 12:30 p.m.

Location: Public Service Credit Union, 7017 Old Trail Road

Suspect:

Adult Male Black Late 40's, 6″ Tall, 180 lbs, Glasses
Orange Hooded Sweatshirt, Dark Jeans

Details:

At approximately 12:30 p.m. this afternoon the above described suspect attempted to rob the Public Service Credit Union located at 7017 Old Trail Road. The suspect walked into the credit union presented a handwritten note to the teller which demanded cash. The suspect became nervous when the teller told the suspect that she had to go to a different drawer for cash. He then left the credit union prior to receiving any money. A K-9 track of the area was unsuccessful.

This incident remains under investigation by the Fort Wayne Police Department and the Bank Robbery Task Force.
Related post: