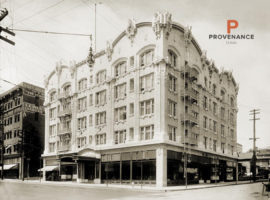 News release from Greater Fort Wayne, Inc.:
Barbara Bradley Baekgaard (Vera Bradly Co-Founder) & Provenance Hotels Team Up to Develop Boutique Hotel in Fort Wayne

(November 22, 2016) — Barbara Bradley Baekgaard, Co-founder, Chief Creative Officer and Director of Vera Bradley, is teaming up with Provenance Hotels, a Portland, Ore.-based hotel owner and operator, to develop a boutique hotel in Fort Wayne, the city where Baekgaard co-founded the iconic lifestyle brand and grew it into a leading designer of women's handbags, luggage and travel items, fashion and home accessories, and unique gifts.

Baekgaard has long been active in the Fort Wayne community and local philanthropy and long dreamed of opening a hotel in her home town. She and Provenance Hotels are working closely with Greater Fort Wayne Inc., and the City of Fort Wayne to finalize site selection. Sites under consideration for the project are in the heart of the city, and it is the intention of Baekgaard and Provenance Hotels that this hotel will further Fort Wayne's ten-year vision to invest in projects that increase the average wage and population growth rate and double the GDP in the city.

"My intention is to create a place that's unique to Fort Wayne and reflects the pride we have in our city. A place where our community can come together to do business, celebrate life's special moments and connect on a regular basis – that's what Provenance Hotels does best," said Barbara Bradley Baekgaard. "They have a solid track record of success, the unique perspective of being owners themselves and an authentic approach to creating independent hotels that are rooted in the community. I'm confident we are going to create something truly special and worthy of Fort Wayne."

"We couldn't be more excited about working with Barbara to make her dream for Fort Wayne a reality," said Bashar Wali, president of Provenance Hotels. "We always seek out partners with vision and projects in forward-looking cities where we can craft hotels that engage, reflect and embody the local spirit. There is no question that Barbara is a visionary and that Fort Wayne is a city positioning itself for a bright, dynamic future. We are thrilled to have the opportunity to become a part of that."

Baekgaard and Provenance Hotels are planning a 120-room hotel with a marquee ground-floor food and beverage operation and meeting spaces designed to serve as a nexus of the community. She will bring her vision and design sensibility to the project, and Provenance Hotels, an operator known for creating award-winning, custom made, locally-driven hotel experiences, will manage the property when it opens in 2019. Their goal is to create a place that Fort Wayne can be proud of and where the community can come together to do business, celebrate life's special moments and connect on a regular basis.

Provenance Hotels operates hotels across the nation that are widely-acclaimed for their deeply integrated art stories, innovative amenities, thought-provoking design and gracious service. Six of the company's hotels received Conde Nast Traveler's 2016 Reader's Choice Awards including Sentinel in Portland which was ranked the #1 hotel in the Pacific Northwest. Most recently, the company opened the Old No. 77 Hotel & Chandlery in New Orleans in 2015 to national- and critical-acclaim that included nabbing the #7 spot on Travel + Leisure magazine's 2016 World's Best list of top city hotels in the continental U.S.

Earlier this year, Provenance Hotels announced it will open Hotel Theodore in Seattle in summer 2017 and Woodlark in Portland in spring 2018. The company is also developing hotels in Madison, Wis.and Hermosa Beach, Calif. that are slated to open in 2018 and 2020 respectively.

About Provenance Hotels
Founded in 1985 and headquartered in Portland, Ore., Provenance Hotels specializes in financing, developing andoperating award-winning independent hotels with distinct and deeply integrated art stories. The portfolio includesHotel deLuxe, Hotel Lucia and Sentinel in Portland, Ore., Hotel Max in Seattle, Wash., Hotel Murano in Tacoma,Wash., the Old No. 77 Hotel & Chandlery in New Orleans, LA., and Hotel Preston in Nashville, Tenn. ProvenanceHotels will open Hotel Theodore in Seattle in summer 2017 and the Woodlark in Portland, Ore. in spring 2018. Thecompany can be found online at www.provenancehotels.com.

About Greater Fort Wayne Inc.
Greater Fort Wayne (GFW) Inc., serves Fort Wayne and Allen County, Indiana, as its metro chamber alliance and primary point of contact for economic growth. GFW Inc., focuses on prosperity and community vibrancy through economic development, advocacy, programs and resources that support business success, leadership development, graduate retention and community engagement. To learn more, visit www.greaterfortwayneinc.com.
Related Images: