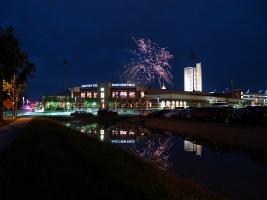 Press release from the TinCaps:
TinCaps Move Game Time, Add Fireworks to July 4th Game
Team moves Saturday, July 4th game time from 4:05pm to 7:05pm and adds additional fireworks display to 2009 schedule

The Fort Wayne TinCaps announced today that they have changed their July 4th game time from 4:05pm to 7:05pm in order to accommodate the addition of a post-game fireworks show to the promotional schedule.

"We have been getting feedback from fans since the season started about making our 4th of July game later and adding fireworks," said TinCaps Team President, Mike Nutter. "We finally heard from enough interested fans that we started taking a serious look at the option of making the change. After coordinating with the groups that had already purchased tickets, we are certain this is the right move."

Fans now have the option to come to downtown Fort Wayne to enjoy the 4th of July, take in a baseball game and celebrate with a post-game fireworks show. "Once we looked at the possibility, it really was a no-brainer," said TinCaps Vice President, Brian Schackow. "What goes together better than baseball, hot dogs, burgers, apple pie and fireworks on the 4th of July? We are excited about giving the people of Fort Wayne the option to celebrate the country's birthday downtown."

The team will add a few special features to their already exciting fireworks display for this special night. "We're proud of our typical fireworks displays," said Nutter. "But this is a special occasion and calls for something special. We're not firing off from the rooftop, it's still a field-level show, but the people at Parkview Field that night will be in for a great display."

Tickets are still available for the game on July 4th and can be purchased by logging on to TinCaps.com, calling the TinCaps Ticket Office at (260) 482-6400, or by visiting the Parkview Field Ticket Office during normal business hours. Tickets already purchased for the July 4th game, with the original game time, are still valid for this game.
Related Images: