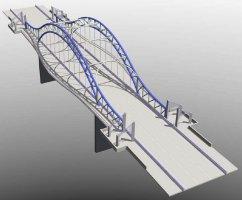 Artist rendering from the City of Fort Wayne
In tonight's Fort Wayne City Council meeting, a contract to provide preliminary design engineering services for the replacement of the Dr. Martin Luther King Jr Memorial Bridge replacement project. Â The contract has been awarded to DLZ Indiana, LLC after the city received eight proposals from various firms which listed their qualifications, staff, approach to the project, capacity to perform the work, their past experiences and location. Â Dave Ross, City Engineer, stated during his appearance that cost considerations were not allowed to be part of the equation because of an InDOT regulation.
David Ross, Denise Porter-Ross (Neighborhood Advocate) and Russ Garriott (Community Development) were on the selection committee that decided on DLZ Indiana. Â InDOT reviewed the City's selection process and agreed with proceeding with contract negotiations for Preliminary Servies. Â The contract is not to exceed $634,200. Â Some of the services to be provided include:
Data collection concerning existing conditions
Develop Lighting Design
Develop a traffic study that would include impact of road closures
Prepare "Maintenance of Traffic Plan"
Develop features that would memorialize the late Dr. Martin Luther King Jr., connect the bridge to surrounding parks and landscaping
Lead 4 public input meetings
Utility coordination
Complete design of the project
Geotechnical investigation
Prepare for bidding through InDOT
Environmental Study of travel patterns, re-locations, flood plains, wetlands, wildlife and habitats, historic and archaeological resources, hazardous substances and land use
Two other Clinton Street projects are slated to ocurr over the next couple of years. Â One is the removal and or raising of the bridge over Spy Run Creek, just South of the State Boulevard and Clinton Street intersection. Â The curve in this area is also due to be straightened as well. Â There was discussion over the projects being scheduled simultaneously rather than separate years so as to minimize impact to traffic and residents in the area.
Project Revenue

$2,560,000 State's Federal Aid
     640,000 InDOT's Match

  2,700,000 Earmark (Total earmark of $4 Million sponsored by Senator Bayh)

     675,000 City's Match

 

 1,225,000

City's Supplemental

$7,800,000

 Â

Project Expenses

$1,480,000 Preliminary Engineering Services

     100,000 Right-Of-Way Activities

  6,220,000

Construction

$7,800,000
The project will be bid in late 2009 and constructed in 2010. Â At this point in the game, however, all bets are off as to whether the finished project will look anything like the above rendering. Â Councilman Tom Smith referred to the current bridge as having an "aircraft carrier top." Â He also asked about replacing the bridge with something similar to what is currently in place. Â When finances improve, he would then like the ability to later add a structure to dress it out. Â Mr. Ross stated this also was a possibility. Â
Whatever design is selected, it will not have piers in the middle of the bridge and will have wider sidewalks to accommodate pedestrians in a safer manner than is possible now.
The piers, as pictured above, collect trees, litter, junk and the occasional refrigerator. Â If this is left in place for any length of time, it causes "scouring" of the piers. Â This occurs because the water moves faster through restricted areas and this "eats" away concrete from under the waterline, at the base of the piers and this ultimately weakens them.