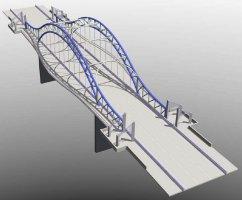 Artist rendering from the City of Fort Wayne
The Sunday morning Journal Gazette carries an editorial about the recent decisions to first not build a temporary bridge, then secondly to hire a consultant to look at that decision.  The Pros and Cons:
The cons

A temporary bridge would have to be built beside the current bridge, and it cannot be wide enough – for reasons of cost and available space – to carry the four lanes of traffic the bridge holds. A one- or two-lane bridge would help, but it would still create major backups.

The bridge and road would have to cut through Headwaters Park, closing off some access and requiring construction to restore it. If built to the east of the existing trail, the temporary bridge would cut through Lawton Park and could close the skateboard park. To the west is more practical but would restrict some construction work that the anticipated development of the River North property northwest of Clinton and Fourth streets could bring, could threaten some flood-control works and would be a difficult squeeze past the historic depot building.

The pros

But without a temporary bridge, many motorists will take State Boulevard to Wells Street, backing up an already busy intersection and clogging up the relatively narrow, two-lane Wells Street.

The bridge closing will be just south of Science Central, and without a temporary bridge, the crimped access could well lower attendance. And without the bridge, a major artery into downtown would be closed just a year after the opening of Harrison Square.

Repairing and upgrading the current bridge is apparently not an option. The 41-year-old bridge was not designed well to carry traffic over the curve of a fast-moving river, where it collects much debris and water eats away at its supports. State transportation officials believe it must be replaced.

City officials want to research what could be the best of bad options: Replacing half of the bridge at a time while keeping the other half open – but even that option, if structurally viable, might increase costs, lengthen the construction timetable and, in any event, would still create bottlenecks.

Fortunately, city officials still have some time to choose the best option – and, if necessary, find more money – before construction starts in 2010.
For previous AFW blog posts on this subject, click here.
Related Images: