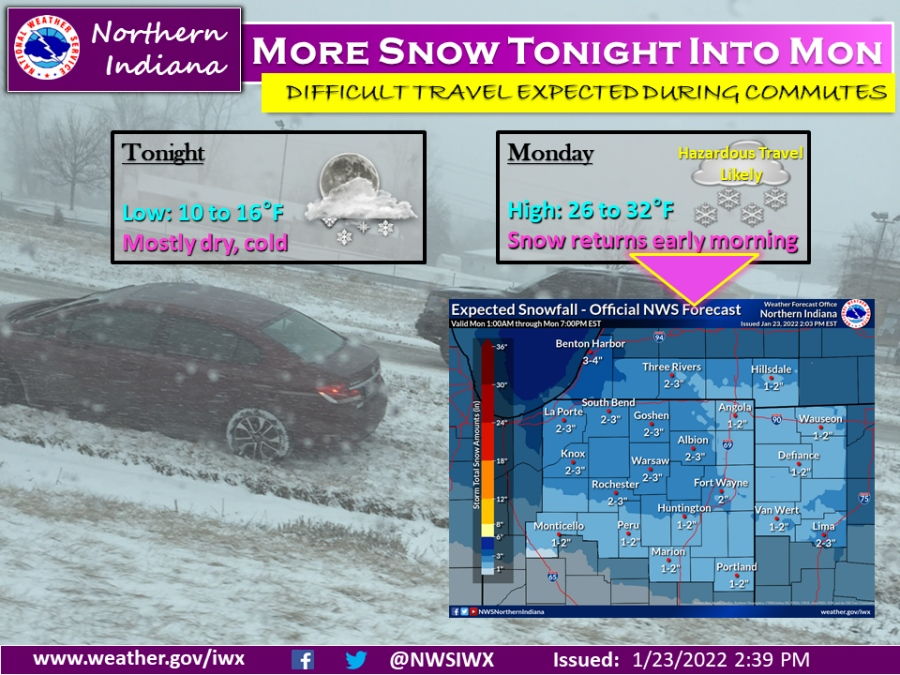 This post contains outdated information.
The National Weather Service predicts overnight lows in the low teens and up to 2″ snow in Fort Wayne tomorrow morning through the early evening.
Special Weather Statement from the National Weather Service:
Special Weather Statement
National Weather Service Northern Indiana
323 PM EST Sun Jan 23 2022

INZ003>009-012>018-020-022>027-032>034-MIZ077>081-240400-La Porte-St. Joseph-Elkhart-Lagrange-Steuben-Noble-De Kalb-Starke-Pulaski-Marshall-Fulton-Kosciusko-Whitley-Allen-White-Cass-Miami-Wabash-Huntington-Wells-Adams-Grant-Blackford-Jay-Berrien-Branch-Hillsdale-
Including the cities of Michigan City, La Porte, South Bend, Mishawaka, New Carlisle, Walkerton, Elkhart, Goshen, Nappanee, Lagrange, Topeka, Shipshewana, Angola, Fremont, Kendallville, Ligonier, Albion, Auburn, Garrett, Knox, North Judson, Bass Lake, Winamac, Francesville, Medaryville, Plymouth, Bremen, Culver, Rochester, Akron, Warsaw, Winona Lake, Syracuse, Mentone, Columbia City, Tri-Lakes, South Whitley, Fort Wayne, New Haven, Monticello, Monon, Brookston, Logansport, Royal Center, Peru, Grissom AFB, Mexico, Wabash, North Manchester, Huntington, Roanoke, Bluffton, Ossian, Decatur, Berne, Marion, Gas City, Upland, Hartford City, Montpelier, Portland, Dunkirk, Niles, Benton Harbor, St. Joseph, Fair Plain, Benton Heights, Buchanan, Paw Paw Lake, Dowagiac, Cassopolis, Edwardsburg, Marcellus, Sturgis, Three Rivers, White Pigeon, Mendon, Coldwater, Bronson, Hillsdale, Jonesville, and Litchfield
323 PM EST Sun Jan 23 2022 /223 PM CST Sun Jan 23 2022/

…Another round of accumulating snow on Monday…

A period of accumulating snow and difficult travel is expected to develop from west to east late tonight into Monday morning. The snow will then taper off in most areas later in the day with total accumulations generally in the 1 to 3 inch range. The snow is expected to start between 6 am and 8 am EST west of US 31, and between 8 am and 10 am into northeast Indiana and south-central Michigan. Roads will likely become snow covered and slick with temperatures in the 20s.
Tonight's Fort Wayne, Indiana weather story from the National Weather Service:
More snow tonight into Monday

Fort Wayne, Indiana (January 23, 2022) – A brief lull in snow will occur this evening into late tonight as temperatures drop into the low teens. The next snow system arrives early Monday morning during morning commute hours, which could make driving difficult. Generally 1-3" of new snow is expected, with LaPorte and Berrien counties seeing a little more lake effect snow accumulation as well. Following the cold front passage Monday night, temperatures will drop even colder.
The latest National Weather Service weather story | Official National Weather Service Northern Indiana website