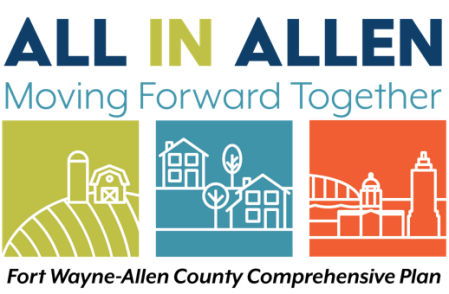 All In Allen Comprehensive Plan Kickoff
Invites Residents to Share Their Ideas

(February 19, 2020) — The All In Allen Joint Comprehensive Plan process kicked off Wednesday, February 19 at the Grand Wayne Center with a keynote address from planning expert Lisa Dunaway and a panel discussion with local community development professionals.

The kickoff is the first of several engagement events to support the joint comprehensive planning process, which will provide dozens of opportunities for residents to share their ideas.

A comprehensive plan is a community wide vision providing a roadmap for future growth and development. Indiana State law empowers cities, towns, and counties to adopt comprehensive plans, which define a long range, 10-20 year vision for the future. Fort Wayne and Allen County's last comprehensive plan was adopted in 2007.

All in Allen will help preserve the diverse and distinct community character in Fort Wayne and Allen County, including the communities of Grabill, Huntertown, Monroeville, and Woodburn. Local officials will use the comprehensive plan to set housing, transportation, economic development, environmental and other policies that will affect how and where people live, work and play in the community.

After introductory remarks from Fort Wayne Mayor Tom Henry and Allen County Commissioner Rich Beck, Dunaway, President of Sensible Ecology, LLC, discussed the importance of comprehensive planning to the success of a community and talked about the issues and emerging trends facing communities like Fort Wayne and Allen County. Dunaway was an Instructor of Urban Planning at Ball State University for almost a decade and her specialties include neighborhood planning, urban ecology and physical planning.

Following Dunaway's presentation, a panel of local experts discussed the ways in which comprehensive planning can prepare communities for future success. The panel included: Mark Becker of Becker Consulting; Rachel Blakeman, Community Research Institute Director at Purdue University Fort Wayne; Rena Bradley, Community Development Director at Bridge of Grace Compassionate Ministries Center; and Kristi Sturtz, President of Sturtz Public Management Group.

All the speakers, including representatives from Houseal Lavigne, the consulting firm hired to lead the comprehensive planning process, urged residents to participate in the process and share their ideas by visiting the project website WWW.ALLINALLEN.ORG. The project website will have information about the plan, announcements for upcoming events, and online engagement tools and activities.
Related Images: