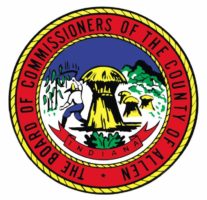 News release from the Allen County Board of Commissioners:
Allen County Drainage Board Expands to Five Members
Woodburn farmer among new additions to panel

(January 25, 2017) — Today marks the first meeting of the newly-expanded Allen County Drainage Board, the panel which reviews and approves the construction, maintenance, reconstruction and vacation of regulated drains.

The Allen County Board of Commissioners approved adding two members to the current three-member drainage board at its legislative session last Friday.

One of the new members is Mark Rekeweg, who helps run a family farming operation in Woodburn. "For a few years, we have had an interest in engaging someone who farms to serve on the drainage board since a considerable portion of our county involves the agricultural community," said Therese Brown, president of the board of commissioners. "We believe with Mark's experience and knowledge about the issues and complexities of farmland management, he'll be able to contribute a unique and important perspective to the board's work."

Also named to the drainage board was Commissioner Linda Bloom. She'll join Commissioners Brown and Nelson Peters, along with M.J. Klinker, a licensed professional engineer who has served on the board since 2012.

Under state law, a county can have a drainage board consisting of either three or five members. At least one member must be a commissioner. The other appointees must be residents of Allen County who are knowledgeable in drainage matters. Appointees serve for terms of three years, with their initial appointments made to provide for staggering of terms on an annual basis. The county surveyor also serves on the board as a nonvoting member.

Tomorrow's drainage board meeting starts at 9:30 a.m. in the Council Courtroom of Citizens Square.
Related Images: