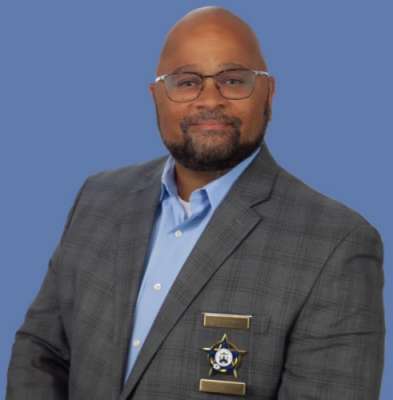 News release from the Mitch McKinney for Allen County Sheriff campaign announcing endorsements from officials around Allen County Indiana:
Webmaster's note: This media release was sent on February 16, 2021 by the McKinney campaign. Our apologies for the late posting.
Mitch McKinney official campaign announcement

Allen County, Indiana (February 20, 2021) – Allen County Sheriff candidate, Mitch McKinney, and his campaign team are excited to announce a list of endorsements from elected officials across the county including New Haven Mayor Steve McMichael; County Councilman Chris Spurr; Fort Wayne City Councilmen Jason Arp, Tom Didier, and Tom Freistroffer; and New Haven City Councilmen Craig Dellinger and Matthew Kennedy.

"I am very honored to have received these endorsements. We were going to hold a press conference today to announce these endorsements, but with the weather being a public safely concern, I did not feel comfortable with that", said McKinney.

"The sheriff is an executive office in some ways similar to a mayor. I have great confidence in Mitch's ability to effectively manage, budget, and lead a workforce while creating an environment that encourages creative thinking and decision making. Simply put Mitch is the real deal", said Mayor McMichael.

"When in trying times, I can think of no greater community asset than a task-driven volunteer; one who steps forward and proclaims, 'Here I am, send me.' An individual who firmly believes in servant leadership at the core of their being. Today, we find ourselves in challenging times and we find ourselves in the midst of criminal justice reform. Allen County has the opportunity to support a dynamic individual who can bring about lasting change in the law enforcement community, one who will unify for the common good – that man is Captain Mitch McKinney. A transformational leader is one who creates an inspiring vision of the future, one who motivates and inspires others to carry out the tasks required to make that vision a reality. Over the years I have had the opportunity to observe Captain McKinney's professionalism and can-do attitude. He has selflessly demonstrated his commitment to faith, family, and duty. He has worked tirelessly to put service before self. It has been said that accountability is best defined as the discipline of transparency. Throughout his career on the Fort Wayne Police Department, Captain McKinney has been a strong proponent of actionable accountability. He has made a commitment to transparency, fairness, and equal opportunity. I am more than confident in his ability to lead this charge. Captain McKinney has what it takes to keep our community moving forward, one who will build bridges of confidence and unification, all while bringing integrity to the office. I am privileged to know him, and I am honored to call him my friend. Captain Mitch McKinney is the clear choice for Allen County. Please join me in supporting Mitch McKinney for Sheriff of Allen County", said County Councilman Spurr.

"Captain McKinney has earned the admiration and respect of his fellow officers on the FWPD as well as others he has served with over his decades of experience in law enforcement and community service. He is a trusted leader with the experience and energy to excel as the next Sheriff of Allen County. I'm proud to support his candidacy", said City Councilman Arp.

"I am proud to stand by and support my good friend Mitch McKinney. Mitch is an outstanding police officer with an amazing presence of knowledge and fortitude to make the Office of the Allen County Sheriff's Department the best in the State. I am asking you to support my man, Mitch. He will get things done in Allen County", said City Councilman Didier.

"Mitch McKinney has the experience, knowledge, and communicative skills to be our next Sheriff. He truly cares for his fellow law enforcement officers as well as the community. He comes highly recommended as the candidate for our next sheriff", said City Councilman Freistroffer.

"Mitch has always been a supporter of New Haven PD, and as sheriff, I have no doubt he will continue that support. As sheriff he will ensure that we have law enforcement agencies that are working together to best and most efficiently serve our community", said City Councilman Dellinger.

"In the time I've known Mitch, he has always been an excellent citizen as well as an excellent officer. I am excited to announce my endorsement for Mitch McKinney for Allen County Sheriff. He is already an important figure in our community for police transparency and inclusion. Electing Mitch is voting for a better community", said City Councilman Kennedy.

McKinney announced his campaign for Allen County Sheriff on October 15, 2020. He currently serves as the head of Community Relations for the Fort Wayne Police Department.
View other posts from the 2022 Election Cycle.
Related Images: