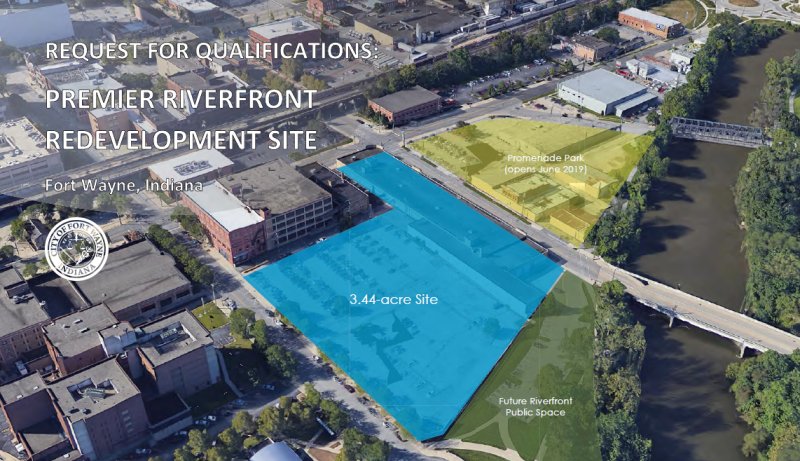 News release from the City of Fort Wayne:
Redevelopment Commission Issues RFQ for Riverfront Property

(March 7, 2019) – The City of Fort Wayne Redevelopment Commision is issuing a request for qualifications (RFQ) for teams interested in developing the premier riverfront property located at the northeast corner of Harrison and Superior streets, east of Promenade Park.

The RFQ is available here and asks interested development teams to submit qualifications, portfolios and concepts for the site to the Redevelopment Department no later than Friday, March 22 by 4 p.m.

A selection committee comprised of Redevelopment Commissioners, City staff, and a representative from Land Collective, the consultant team leading the Riverfront Implementation Framework, will review the qualifications and select candidate(s) that will be invited to respond to a Request for Proposals (RFP). City redevelopment officials believe a mixed-use development with options for public parking represent the best long-term use for the site.

"I am excited by the interest I am receiving from both local and national developers in this property," said Nancy Townsend, redevelopment director. "This property is critical to the success of our ongoing downtown and riverfront development work, and I'm confident the final project will be something our community can take pride in."

The Fort Wayne Redevelopment Commission recently terminated an economic development agreement with a developer to build a mixed-use project at this site because the developer could not meet the conditions of that agreement.
Download the RFQ Premier Riverfront Development Site document
Related Images: