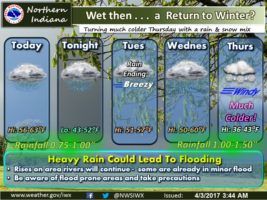 Today's weather story from the National Weather Service:
Wet then…a return to Winter?
Turning much colder Thursday with a rain and snow mix

Heavy rain could lead to flooding

Rises on area rivers will continue – some are already in minor flood stages
Be aware of flood prone areas and take precautions

(April 3, 2017) – Two rounds of rain this week are expected before much colder air spreads over the area behind a cold front Thursday.

The combined rainfall from these two systems is forecast to range from 1.75 inches to 2.50 inches by Thursday evening. A few rumbles of thunder are expected in the interim, but severe storms are not expected. Additional rainfall will aggravate rivers already in flood stage. A mix of rain and snow is forecast Thursday, but no snow accumulation is expected.