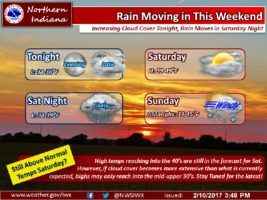 Tonight's weather story from the National Weather Service:
Rain moving in this weekend
Increasing cloud cover tonight, rain moves in Saturday night

(February 10, 2017) – A pleasant evening is in store, with increasing clouds expected overnight. Low temperatures will bottom out in the 30's.

On Saturday, high temperatures will range from 39 to 49F-warmest south of US 30. However, if cloud cover becomes more extensive than what is currently expected, highs across the forecast area may only reach into the mid-upper 30's.

Rain will move in Saturday evening and continue into Sunday. Morning highs on Sunday will be in the upper 30's and low 40's, but will fall into the 30's through the afternoon as colder air moves in. Rain chances will continue for parts of the region into the afternoon, possibly mixing with snow as temperatures drop.

See our webpage for additional details in your specific location.